Aircraft Wreck Hunting In The Peak District : Shelf Moor
Day two dawned well before we woke up but it was still a nice day when we surfaced and headed for Shelf Moor near Bleaklow Hill. We parked up at Doctors Gate on the A57 and set off anticipating a C47, Lancaster and Superfortress all within a 10km walk, give or take a couple of kilometers of ascent, descent and hard slog.

Our decided route was to walk North West from Doctors Gate,then descend and cross Shelf Brook before ascending by the stream to the top of James's Thorne on Shelf Moor. Walking down the path from doctors gate we thought we had spotted the C47 wreck on the top of the hill to the North, so we aimed for that – when we eventually got there it turned out that what we had seen were white sacks containing netting to help restrain peat erosion.

Getting across Shelf Brook turned out to be tricky as it was quite slippery and we managed to get our feet wet, following which we had the rather daunting ascent of Ashton clough. This is a difficult route even for the experienced walker and I would not recommend it. There are a couple of places which required scrambling on all fours up seriously steep sections of loose grass covering eroding peat. However, we persevered to find large sections of C47 42-108982 including an engine, some undercarriage and what appeared to be a four foot section of the rear fuselage.


Shelf Moor USAF Dakota 42-108982
Once we had ascended past the high fence line we found an area of debris that is the site of the crash, all of the wreckage that we had previously found has gradually made its way down into the clough due to the intervention of mother nature over the 65 plus years since the crash. This aircraft flew into Shelf Moor in July 1945 with the loss of all 7 on board.


Shelf Moor USAF Dakota 42-108982
At the peak of James's Thorn, less than 0.5km from the main C47 crash site, are the remains of Lancaster KB993. This amounts to little more than a small pile of accumulated metal and fragments of molten aluminium spread over a 100 square meter area.


Shelf Moor RAF Lancaster KB993
There is however a memorial to the crews of both the Lancaster and C47 which was erected in 1995 on the 50th anniversary of the Lancaster crash. This was, for me, the most poignant point of our walks – we were at a memorial to the victims of two crashes that occurred shortly after VE day, involving needlessly flying into high ground in poor weather – what a terrible waste.


We then kept to the top of the high ground heading Eastwards to the trig point at Shelf Moor searching for the remains of a Superfortress. The ground between the Lancaster memorial and the trig point is badly eroded peat with areas of netting mesh attempting to stem the erosion. Fortunately we were there in late summer but I fear that in prolonged wet weather this area would be virtually impassable.

We headed North East from the trig point and came across wreckage after some 300 metres. It was soon apparent that this is one of the most substantial wreck sites still to be found on the high ground of the UK.


Shelf Moor USAF RB-29 Superfortress 44-619999
We were taken aback by the amount of wreckage here and by the quantity of tributes in the form of wooden crosses, poppy wreathes and crosses made of stones that have been left here over the years – it was truly a moving experience to be there.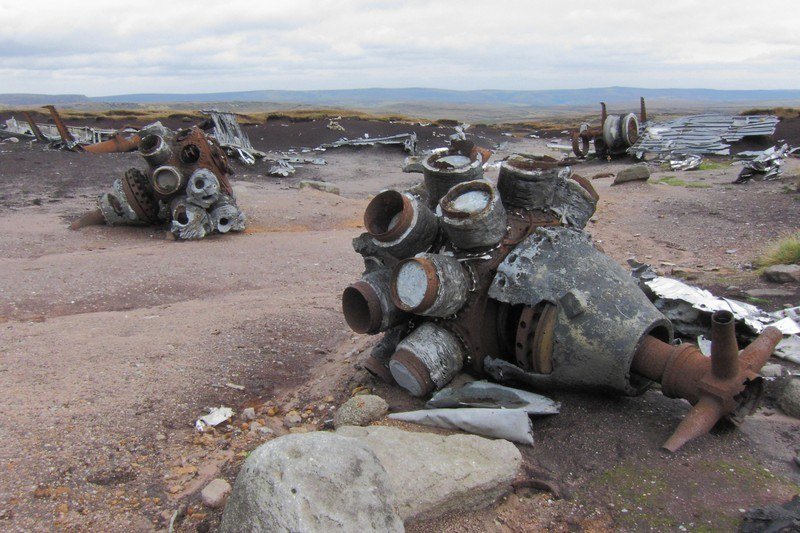 Shelf Moor USAF RB-29 Superfortress 44-619999
This site is close to the Pennine Way, but if you were taking that path you would walk past the crash site without knowing that it was there. The aircraft is RB29 44-619999 which crashed in November 1948 on a flight between Scampton and Burtonwood with the loss of 13 crew.
This website is designed for landscape mode.
Please rotate your device.